Overview
Elbow arthroscopy involves placing a camera inside the elbow to guide the placement and manipulation of various tools to treat an expanding number of conditions arthroscopically through three or four small incisions less than 1 cm in length. The procedure is a safe and effective way of treating multiple conditions of the elbow in a minimally invasive fashion. An understanding of elbow anatomy and the location of neurovascular structures has greatly improved the safety profile of the procedure and in the hands of a specialist, risk is low.
Indications for Elbow Arthroscopy
Removal of loose bodies inside the elbow joint
Synovectomy and excision of synovial plica
Excision of osteophytes (bone spurs) due to osteoarthritis.
Release of thickened capsule in cases of elbow stiffness.
Treatment of osteochondritis dessicans (cartilage lesions of the elbow)
Treatment of lateral epicondylitis (Tennis elbow)
Treatment in intraarticular conditions associated with medial collateral ligament reconstruction
Workup Prior to Elbow Arthroscopy
Your physician will perform a detailed workup to determine if you are a candidate for elbow arthroscopy. This includes, most importantly, a history, which details how long the problem has been bothering the patient and when/how/where the symptoms occur. A history of trauma, fracture, neurologic symptoms, mechanical symptoms, and weakness will all be sought out. This detailed history is followed by various provocative maneuvers and range of motion testing which with allow the examining physician a chance to narrow down the differential diagnosis.
After the physical exam is complete, the patient will likely need a set of plain x-rays which will reveal a history of remote or acute trauma, arthritis or other bony conditions, and overall joint alignment. In certain scenarios, three dimensional imaging such as MRI will be ordered to further delineate the condition of the cartilage, muscles, tendons, and ligaments of the elbow.
Most critically this examination, history, and imaging workup will establish a diagnosis; this diagnosis and its severity will determine if the patient has one of the aforementioned conditions that can be improved with an outpatient elbow arthroscopy. Prior to entertaining the idea of surgical intervention, usually a trial of nonoperative therapy is attempted such as physical therapy, bracing, rest, and medications.
What to Expect
If surgery is deemed necessary, and conservative measures have failed, elbow arthroscopy can be performed.
Surgery is performed as an outpatient.
Anesthesia can be general anesthesia or regional anesthesia with a nerve block.
Three small incisions are established to carry out the surgery using a camera and small instruments within the elbow joint.
After surgery, depending on the type of surgery performed, the doctor will prescribe either immediate range of motion for the elbow or a period of immobilization to allow the elbow to heal.
Physical therapy will start as soon as the wounds heal
Final healing and recovery time vary from procedure to procedure.
Procedure Examples
Normal Anatomy
Figure 1A. Normal Radiocapitellar joint. Figure 1b. Normal ulnohumeral joint. Both photos are anterior views of the elbow joint.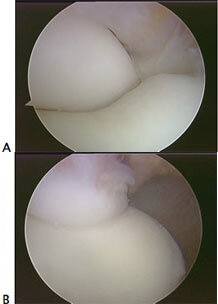 Figure 1
Loose Body Removal
Figure 2A. MRI showing multiple posterior loose bodies on MRI.
Figure 2B. Loose bodies present Arthroscopically.
Figure 2C. Loose bodies after removal.

Figure 2
Loose Body Removal
Figure 3A. Large posterior loose body identified via MRI. Figure 3b. Arthroscopic visualization of loose body. Figure 3C. 3-centimeter loose body after arthroscopic removal.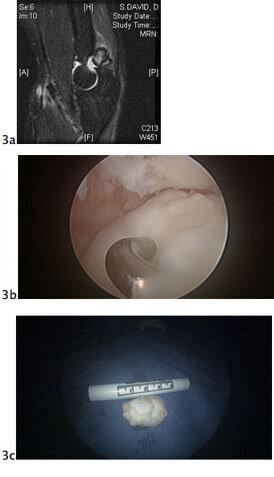 Figure 3
Osteophyte Excision
Figure 4A and 4B. Posterior elbow viewed arthroscopically before and after excision of posterior olecranon spurs that were limiting full extension of the elbow.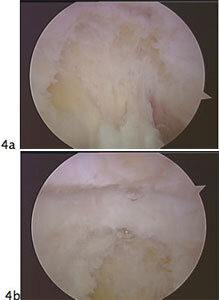 Figure 4
Plica Excision
Figure 5A. MRI picture of an elbow plica in the radiocapitellar joint of the elbow. A plica is a painful band of tissue which snaps in and out of the joint with elbow rotation causing pain and clicking in the elbow. Figure 5B shows the plica rotated out of the joint. Figure 5C shows the elbow rotated so the plica snaps into the joint. Figure 5D shows the radial head and capitellum after excision of the plica.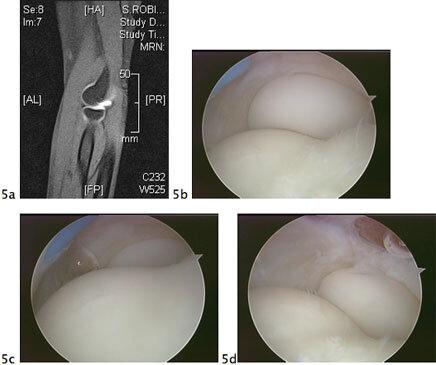 Figure 5