Overview
Frozen shoulder or adhesive capsulitis describes a common shoulder condition characterized by painful and limited active and passive range of motion. The cause of frozen shoulder remains is not known in many cases, but patients typically demonstrate a characteristic history, clinical presentation, and recovery. Frozen shoulder can be classified into three main categories based on etiology: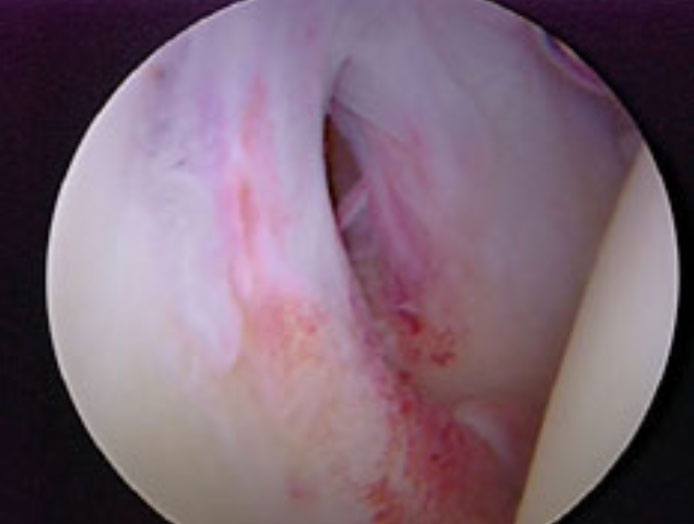 Figure 1.
Arthroscopic photo of inflamed, tight joint capsule
Causes of Frozen Shoulder
Idiopathic: The cause is not known, but typically affects females more than males aged 40-60.
Systemic: Associated with a systemic condition such as diabetes or hypothyroidism.
Secondary: Frozen shoulder is secondary to trauma or avoidance of painful movements due to another shoulder condition such as a rotator cuff tear, impingement, or tendonitis.
It is also helpful to classify frozen shoulder by the level of irritability of the joint (amount of pain present graded as low, medium, or high). The amount of pain present can affect treatment recommendations. For example, a highly irritable joint commonly will not tolerate physical therapy while a joint with minimal pain can benefit from early stretching.
Workup for Frozen Shoulder
A visit to an orthopedic surgeon will involve x-rays and a physical examination. Physical examination will show decreased range of motion in comparison to the unaffected shoulder.
X-rays are used as a screening tool to rule out arthritis and to diagnose the secondary causes of frozen shoulder such as impingement and calcific tendonitis. If there is any suspicion of a systemic illness such as diabetes or hypothyroidism, laboratory examinations will be ordered.
Lastly, an MRI of the affected shoulder is not an absolute necessity in diagnosing frozen shoulder but is often obtained to aid in diagnosing secondary causes of frozen shoulder or to rule out additional pathology.
Treatment of Frozen Shoulder
The first step in recovering from frozen shoulder is to understand that it is a difficult condition to treat and resolves very slowly. Full recovery can take two years. Treatment is guided by stage of disease (see below). The cornerstones of nonoperative interventions are stretching exercises, joint mobilization, and corticosteroid injections. Strengthening a shoulder with adhesive capsulitis is not effective!
It is extremely common for patients with frozen shoulder to present to my office having 'failed' physical therapy. Careful evaluation will reveal that the shoulder was being treated with rotator cuff strengthening exercises. These exercises are minimally effective until a more normal range of motion returns. Most patients will respond to cortisone injections, stretching exercises with the physical therapist, and most importantly, TIME. In general, stretching exercises and manual therapy techniques are progressed as the patient's irritability reduces.
The overall level of irritability of the joint can be reduced with cortisone injections. Response to treatment is based on significant pain relief, improved satisfaction, and return of functional motion. Patients who have recalcitrant symptoms and disabling pain may need operative intervention with arthroscopic capsular release and manipulation under anesthesia. The following flowchart of frozen shoulder staging is helpful to understand the disease process and the treatment guidelines followed at each stage.
Stages of Adhesive Capsulitis
STAGE 1 – INFLAMMATORY PHASE
0-3 MONTHS
INFLAMMATORY SYNOVITIS (PAIN)
DECREASED RANGE OF MOTION DUE TO PAIN
TREATMENT
CONSERVATIVE THERAPY: CORTISONE (STEROID) INJECTION, PHYSICAL THERAPY SOMETIMES NOT TOLERATED DUE TO PAIN
STAGE 2 FREEZING PHASE
3-9 MONTHS
SYNOVITIS
CAPSULE THICK CAUSES PROGRESSIVE RANGE OF MOTION LOSS
STIFF !!! PASSIVE MOTION EQUALS ACTIVE MOTION
TREATMENT
(1) CORTISONE/PHYSICAL THERAPY FOR STRETCHING ONLY. NO STRENGTHENING
-OR-
(2) SURGERY: ARTHROSCOPIC CAPSULAR RELEASE AND MANIPULATION UNDER ANESTHESIA. FOR INTRACTABLE PAIN OR THERAPY/INJECTION NON-RESPONDERS
STAGE 3 FROZEN PHASE
9-15 MONTHS
LESS PAIN
PHYSICAL THERAPY MORE TOLERABLE
WAITING IS EASIER DUE TO DECREASE IN PAIN
PATIENTS LESS COMMONLY DESIRE SURGERY OR INJECTION
TREATMENT
PHYSICAL THERAPY OR Seth C. Gamradt, MD, Orthopedic Surgeon, Beverly Hills, Los Angeles, CA STRETCHING PROGRAM
STAGE 4 THAWING PHASE
RANGE OF MOTION GRADUALLY IMPROVES
PHYSICAL THERAPY GAINS EFFECTIVENESS AS THE BODY REMODELS THE CAPSULE
INITIAL TREATMENT
PHYSICAL THERAPY OR Seth C. Gamradt, MD, Orthopedic Surgeon, Beverly Hills, Los Angeles, CA STRETCHING PROGRAM. CAN BEGIN SOME STRENGTHENING AT THIS POINT.
Arthroscopic Capsular Release/Manipulation Under Anesthesia
Certain patients despite multiple injections and rounds of physical therapy do not progress in regards to improvement in pain or range of motion. These patients commonly had tried 6 months of nonoperative treatment without relief. In these recalcitrant cases of frozen shoulder, shoulder arthroscopy can be an effective treatment.
In surgery for adhesive capsulitis, a camera (arthroscope) is inserted into the glenohumeral (shoulder) joint and a systematic release of the thickened, scarred shoulder capsule is carried out under direct vision. Secondary causes of frozen shoulder are also addressed such as impingement syndrome. After the capsule is released, the arthroscope is removed from the joint and the shoulder is gently manipulated into full motion.
Surgery is performed as an outpatient under nerve block anesthesia. A sling is worn for comfort only for a few days. Physical therapy is initiated immediately to maintain the range of motion gained in the operating room. Pain medicine and anti-inflammatories are generally required for 1-3 weeks especially prior to physical therapy sessions. Surgery is not a 'quick fix' for this condition as range of motion can still take many months to return to normal despite aggressive range of motion exercises.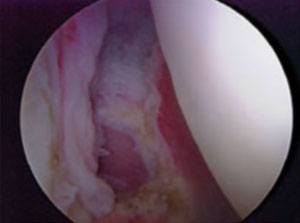 Figure 2A: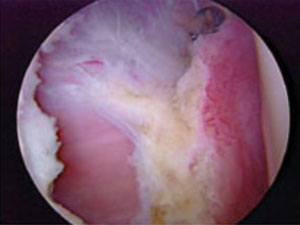 Figure 2B:
Figure 2A and 2B. Arthroscopic anterior and aneroinferior release of thick, tight capsule.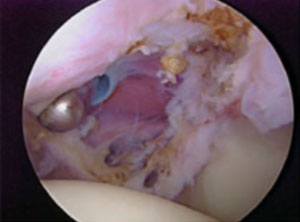 Figure 3A: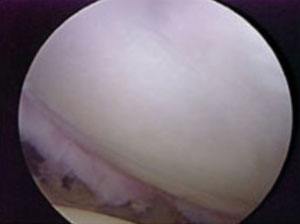 Figure 3B:
Figure 3A. Posterior capsular release. Figure 3B. Inferior capsular release.